It' been a couple of weeks since I set foot in Madewell and while I was glancing at the website last night, I noticed a whole bunch of new arrivals. A few were my favourites, among them the
Silk Embroidered Tee
in 'nightfall.'
Silk Shirred Top
comes in 'wild boar' (shown here) , 'pearl ivory' and 'modern fuchsia.'
Silk Shirred Top
Home Game Hoodie
Skargorn #88 Sweatshirt Tee in Stripe
is also all cotton. This is one green I may be able to ge away with, mainly because it has a lot of blue in it. :) Most of the others make me look terrible.
Skargorn #88 Sweatshirt Tee in Stripe
Linen Tee in Dot Block
because summer can't come soon enough. I'm tired of winter already. Dots are only on the front though. There is cotton one that has dots all around from
SkarGorn
.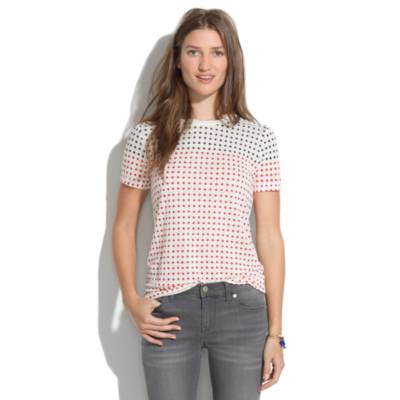 Sessun Ewe Jacket
comes in 'navy.'